Available For A Range Of Commercial Projects 
Basement Homes also offer a wide range of commercial building services and our ICF construction techniques can have massive thermal benefits for a range of commercial applications. Insulated Concrete Formwork (ICF) has improved U value and affords increased thermal efficiency whilst also being highly effective at reducing noise.
The benefits that ICF construction bring to new build and extension projects mean that our services are ideal for large commercial buildings such as care homes, warehouses, music studios, car parks, offices and more. ICF ensures that your buildings remain cooler in the summer and warmer in the winter and can these thermal efficient properties result in lower air conditioning and heating costs.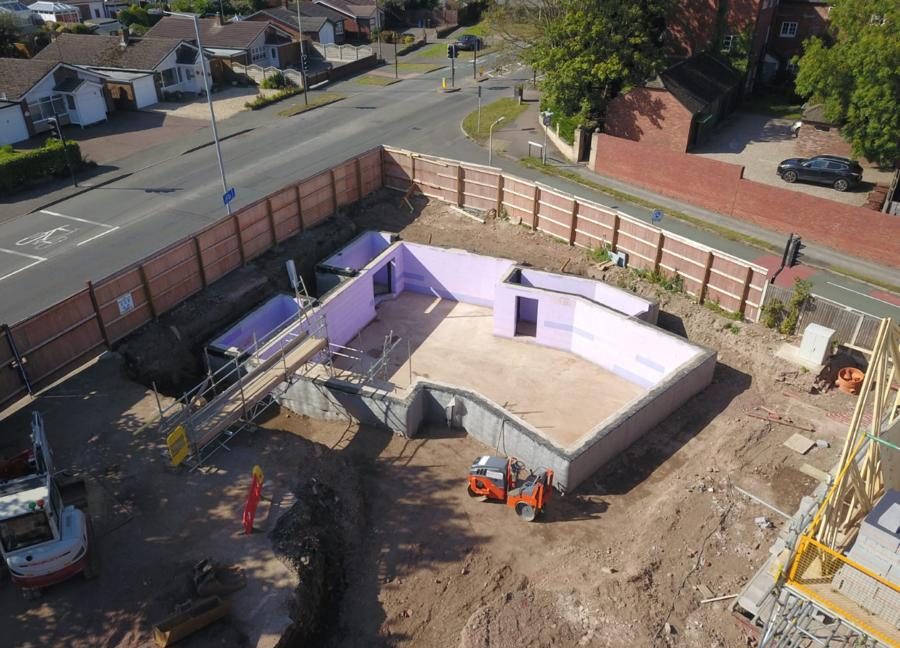 Benefits Of ICF For Commercial Construction
The improved thermal efficiency found in ICF buildings brings advantages that you wouldn't see in standard construction methods. Thermal efficiencies lead to much lower running costs thanks to the use of ICF. For example, an ICF building would take 9 days to reach zero degrees if that was the outside temperature if it was left without heating. In contrast, a traditional and SIP construction would take just 24-48 hours to reach freezing.
The Green Building Council have also commented on the benefits of ICF in response to the UK housing market being among the least energy efficient in Europe. Jean Marc Bouvier stated:
 "Why we keep on building with cavity walls when ICF is just way superior, I do not know; they are quick and easy to construct and the finished standard is much higher. You don't get problems with damp penetration or mould, you get fabulous airtightness levels built in and whatever insulation level you require is easily accommodated. All with a much thinner wall thickness."
Why Choose ICF For Your Commercial Project?
There are a vast number of reasons that ICF construction is becoming a highly attractive option when it comes to commercial construction. There are many long term cost savings to be enjoyed as a result of ICF and the build quality is often vastly superior to that of more traditional methods.
Here are just some of the benefits of using ICF for your next project:
Moisture becomes a minimal threat to the building
Reduced risk management
Optimal energy performance means lower costs
Easier to maintain steady state internal temperatures
Higher levels of comfort
Greater thermal efficiency
Improved sound resistance
Resistance to mould and rot
Greater construction efficiency
Highly innovative designs
We also work on a number of commercial basement projects like the ones pictured.
Basements have a number of benefits and uses for commercial spaces. From creating extra retail space, restaurants, nightclubs, car parks, storage or even office space – a commercial basement build can be one of the most cost effective ways of expanding a commercial or corporate space.
Converting or building a basement in to a commercially viable space is not easy and requires skilled tradesmen. At Basement Homes, we manage the entire process of your commercial basement build/conversion to ensure every aspect of the design and build is carried out to the highest levels of quality and workmanship.
Often, commercial spaces have basements that have been poorly maintained which makes these types of projects a very specialist job – something we are well equipped to handle.
From existing commerical premises to new builds, at Basement Homes we create bespoke designs for truly stunning spaces – so no matter what the commercial purpose of the basement – we can help.